"Inside/Out" Board Game, granddaughter Abigail Age 7
      During the last Christmas season I was commissioned (long distance) with procuring a set of plush character toys from the movie "Inside/Out". You know the gang–Anger, Joy, Sadness, Fear and Disgust.  These were to be gifted from their beloved Auntie M to my two youngest grandsons–ages 6 and 3–on Christmas morning when my son and his family arrived for the holiday.

      The gifting took a bit of reconnaissance –back and forth texts and emails with my daughter in law, phone messages ironing out who would pay for what and how. I would be purchasing them on behalf of the aunt who wouldn't be with us and well, it was all a little complicated. Finally, father Christmas and I located the items on Amazon via the Disney Store and we were in business.

Except for one thing: there was no Sadness doll. Sold out. Apparently she was the most popular character, for good reason.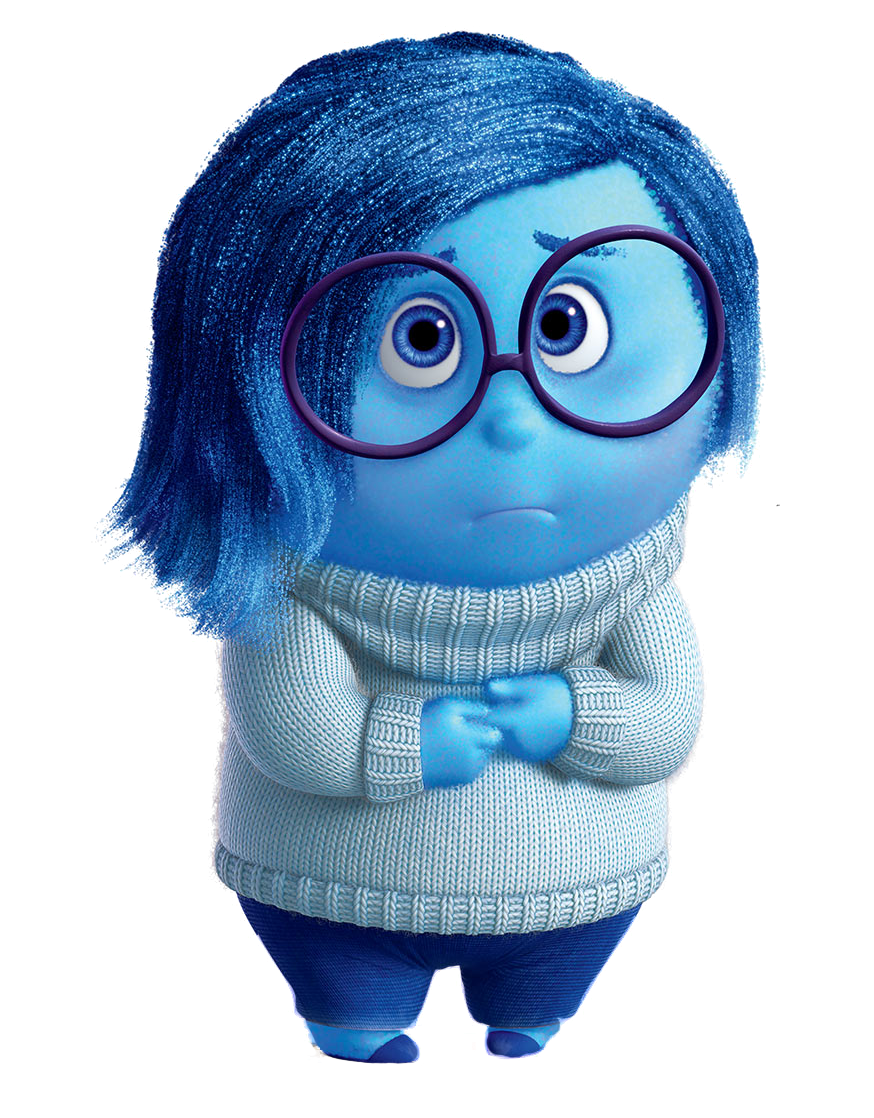 For those of you who have seen the film, you know 'Sadness' is the heroine of "Inside/Out"'; without her, blue hair and saucer-sized glasses included, the little girl Riley's emotions are incomplete.  
Because, to paraphrase one of the characters, "You can't feel Joy all the time."
Back to Christmas morning.
      Gift opening time came;  after much fanfare to unwrap said Big Gift, cameras and phones poised, we thought the littles wouldn't notice the lack of the Blue One. All the other colors would be there: Anger, Red, Fear; Purple, Joy; Yellow and Disgust; Green. The boys ripped open the box spilling tissue paper to the Heavens and within 2 milliseconds exclaimed, "There's no Sadness!!"  
That blue girl's presence was sorely missed. Two wise little guys let us all know the set of Feelings was incomplete without her.
      Facing Palm Sunday and heading into Holy Week as we contemplate Christ's Death and Resurrection, I think it is critical to remember without the sadness of Good Friday there is no Joy of Easter morning.
      A.J. Swoboda, in his book "A Glorious Dark" talks about the problem of only embracing one day of the Easter Triduum thereby limiting ourselves to Friday or Sunday Christianity. His book's powerful premise is we need all three days–the tragedy of Good Friday the darkness of Saturday AND the joy of Easter Sunday.
"Friday Christianity is the religion of those who've chosen to find their identity in a spirituality of defeat, death and loss.  Their spiritual depth abides solely in the torment of suffering on the cross.  Friday Christians worship suffering so much they assume one must be experiencing loss and suffering in ordered to be considered "honest" or "authentic" or "real."
Sunday Christianity is equally problematic. These chipper, slick, ever-too-happy Christians see God in, and only in, victory, prosperity and blessing.  Everything for them, is a footnote on their own pursuit of personal happiness. When Christians live in Sunday alone, they fabricate a kind of hassle-free approach to Christian spirituality that, while outwardly appealing, is entirely impotent–lacking power, girth and any amount of stamina."
'A Glorious Dark', A.J. Swoboda, p. 4
      I confess I used to be a Sunday Christian.  I am an Extrovert, First Born, Impulsive, Impetuous and Intuitive–I can find the fun in anything. The yellow sunshine of Joy was my litmus test for how well I was following Jesus–and how well YOU were following Jesus. Sick? Having trials? Problems looming? You must be doing something wrong.  
      Ah, well, isn't God patient?  I've come to learn these last few years how truly complete we are when we live through and experience all the emotions God has given us–fear, anger, sadness and joy. Our feelings reveal to us not only our desperate humanity, bankrupt without the redemption of God, but also can become channels for God's glorious joy when there is a resurrection on the other side.
       Our initial repentance and turning towards Jesus is just the beginning of many resurrections. We grow, spiraling back on lessons and seasons in our lives, embracing the dark and the delight and dying daily to our sin, rejoicing in more freedom as we walk this labyrinth of life.
Let's walk together and give each other room to embrace it all, 
even, especially, the hard times and Sadness.
~~~~~~~
Shhhhh…don't tell my grandkids, the Sadness plush doll should be in their mailbox soon.
Linking with Kelly for the

#Small Wonder Link up